Innskudd med Paysafecard
Paysafecard tillater deg å sette inn penger til PlayKasino kontoen din når som helst. Det er sikkert, enkelt, og anonymt. Paysafecard er tilgjengelig fra mange forskjellige steder; bensinstasjoner, kiosker, el. butikker, postkontor, bokbutikker, banker, og mange flere.
It is quick, easy and safe. You don\'t need a credit card or a bank account. By choosing Paysafecard you\'ll be getting the safest, simplest solution going: that\'s because Paysafecard is a prepaid card that lets you pay on the internet. Paysafecards can be purchased at values of 10, 25, 50, and 100 EUR.
Dersom totalsummen av dine betalinger overstiger kortkreditten din, kan du enkelt betale den resterende summen med det neste paysafecardet. For en enkelt betaling, kan du kombinere opp til ti paysafecards, noe som tillater deg å bruke opp eventuell gjenværende saldo på ditt inneværende paysafecard.
Paysafecard is every bit as simple as cash. You don\'t need a bank account or a credit card. That\'s because Paysafecard is a prepaid voucher that you can buy from local shops and use to pay for online transactions on the internet.
It\'s as easy as 1-2-3!
To find out more about Paysafecard please visit //www.paysafecard.com/pos. The site has multiple languages to choose from.
For å gjøre en innsettning med paysafecardet ditt skal du velge paysafecard fra betalingsmulighetene, skrive inn beløpet i Euro og bonuskoden din (om du har en).
You will then be redirected to Paysafecard\'s website where you need to enter the individual PIN from your Paysafecard. This is very simple–see the screenshot below: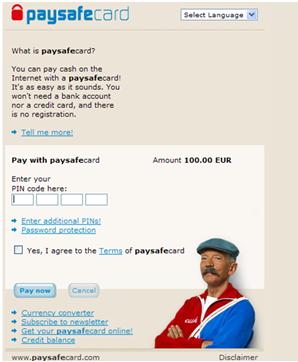 Tilgjengeligheten avhenger av landet ditt